The Gold Crown Foundation hosts a volleyball program in the early fall for girls in 6th, 7th and 8th grades. More info and registration here.
For a full size Club Calendar go to Calendar in the top toolbar.
For team calendars go to Teams in the top toolbar.
Coaching at Flatirons VBC
We are always looking for dedicated coaches. If you are interested in working with ambitious athletes, please email Susan at 
flatironsvbc@gmail.com
Contact Us by phone:
Office: (303) 543-7605 Fax: (303) 543-7609 
We have a new mailing address:
Flatirons Volleyball Club
2770 Arapahoe Rd., Suite 132
Lafayette, CO 80026
Flatirons Volleyball Club is a junior girls' volleyball club entering our 21st season of training athletic young women from Boulder County and the surrounding area. Our primary goal is to teach girls how to become complete athletes on and off the court. We believe in the value of life lessons through team sports.
Flatirons Volleyball Club is the most successful girl's volleyball club in the Boulder County area. If you have a passion for volleyball and would like to be part of a hard working group, we invite you to try out for one of our teams.
Click  here to learn more about Flatirons, the longest running girl's volleyball club in Boulder County.
Earn $$ toward your Flatirons season fees with your grocery shopping!! Learn about our Grocery Card program here
We are currently hiring coaches.
If you are motivated with a passion for volleyball, there may be an opportunity for you to inspire and make real positive change in young lives. Contact Director Susan Cancilla at flatironsvbc@gmail.com 
The 2019 season was a wonderful experience of growth and bonding for our players and for the club as a whole! Please take a look at our News Page for some of our special memories.
And an extra special THANKS! to all Flatirons players and coaches for working so hard this season. 
What a terrific 20th season with these incredible girls!
Thank you for making it one of the best ever!
 Flatirons alumni Karysa Swackenberg flying high
 at Rutgers Volleyball!
Earn money toward your Flatirons membership with King Soopers and Safeway grocery gift cards.  The savings program for the 2019 Season has begun. Use your grocery purchases to save on Flatirons fees! Five percent of the funds you load onto the cards go toward your athlete's season fees.  Learn about it here.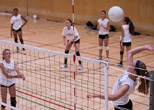 Extra special THANKS! to Flatirons Parents for their team support at Power Tournaments! Coaches have reported enthusiastic cheering for great plays on the court, always asking if there's another way to help and the incredible, healthy foods you bring to the team table.  You're the best!! 

Success Stories
Click here to see the accomplishments of some of our present and former players
Contact us at flatironsvbc@gmail.com to add your contact information to our email list.  
This has been an incredible season with many wins for Flatirons. Visit our News Page to see some of our successes.

Lost and Found – Lose your favorite water bottle? If you left your water bottle or sweatshirt in the gym, check the school's lost and found area. Coaches will put everyday items that are left in the gym in the school's Lost and Found. For valuable items email your coach, or Flatirons at flatironsvbc@gmail.com
Special thanks to our trainer, Kyle Schnitger and Brute Force for preparing us for competition! We especially love throwing the sandbags!
Congratulations to Coach Jen Dixon, Monarch Head Volleyball Coach, for being awarded the "Best Should Teach" award by the U. of Colorado.
Women's college volleyball matches are televised on the SECND channel; Comcast Ch.706.  Check it out . . . terrific matches to watch and learn.
High Fives to top 5 finishers Chris and Jordan Warner at the King of the Mountain Volleyball Tournament in Vail!  Nice job! 
Donate to Flatirons by shopping on Amazon!
With the AmazonSmile program, Amazon will donate 0.5% of your eligible AmazonSmile purchases to the non-profit organization of your choice. And we think Flatirons is a good choice!
Set this up by going to smile.amazon.com and selecting Flatirons Volleyball Club. Many thanks!