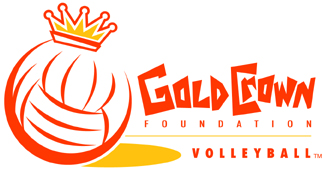 The Gold Crown Foundation runs youth volleyball programs in the early fall for girls in 6th, 7th and 8th grade. This volleyball league has become a "one-of-a-kind" league and serves girls from Pueblo to Berthoud. Teams are formed based on the high school the girls will feed into. If you will be attending Monarch High School, you should tryout for the Monarch Gold Crown teams. Our goal is to run 3 teams; one at each grade level.
This will be determined by the number of girls at tryouts.
The Monarch Gold Crown teams are slated to begin practicing after tryouts on August 20th. Practices will be held on Mondays and Wednesdays from 6:00-8:00 PM at Eldorado K-8 School in Superior.
The Gold Crown competitive season begins September 30th through November 4th. A preseason scrimmage day is scheduled for September 23rd. Each team will play two matches on Sundays beginning Sept. 30th at the Gold Crown Facility in Lakewood.
The approximate cost to play on a Monarch Gold Crown team will be $250. Each player will receive a jersey.
Payment will be collected after tryouts.
Be sure to join our email list at monarchgcvb@gmail.com and you will receive details for the 2018 season as they are made available.
We look forward to seeing you for the 2018 Gold Crown Season!
Susan Cancilla
(303) 543-7605 monarchgcvb@gmail.com