Congratulations to the team for the 1st place win at Power 3!!
And extra special thanks to the coaches and parents!
We all know it's a complete team effort!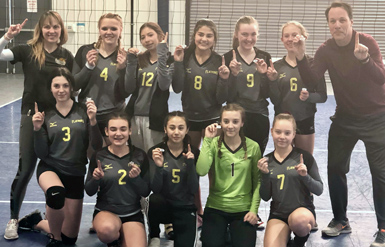 The 14 Regional team has had an amazing start to our season. So far we have had two bonding opportunities. Our team's first meeting was hosted by Kate's family where the girls and parents all met for the first time. In addition, the girls and Coach Tim have had one Starbucks Hot Cocoa holiday celebration. More to come. Maybe girls versus parents (and coaches) wallyball night 😀
Recently we have added Coach Erica Holwick. She has been a great addition to our team.
Practices and our first two Powers have shown enormous volleyball growth. Each of our girls have added to their Serving and Passing skills. Our next focus will be on our hitting, defense, and how we transition on the court.
Lastly we want to say a special thanks to all our parents for their great support at each of our Powers. Our girls are blessed to have parents who see how much each of us have grown since November. Thank you Mrs. Doering for being our Parent Lead and guiding all of us with our food tables at Powers.
Practice Schedule
*Practices are subject to change when there is a school event or inclement weather
| | |
| --- | --- |
| Day | Time and Location |
| Tuesdays, Thursdays | See Team Calendar at the right |
| Saturdays in 2018 | See Team Calendar |
| Saturday practice on Tournament weekends in 2019 | See Team Calendar |
Tournament Schedule
Preliminary Tournament Schedule
**Subject to change**

RMR Power 1        January 13, 2019
RMR Power 2        February 3, 2019
RMR Power 3        February 24, 2019
RMR Showdown    February 16-18   
RMR Power 4        March 24, 2019    **BVSD Spring Break
RMR Power 5        April 7, 2019    
RMR Power 6        April 28, 2019

Roster
AnnMarie DeCamillis
Delany McKernan
Stella Hostetter
Ellie Doering
Julianna Lopez
Rachel Christenson
Kate Sullivan-Schadle
Nazla Steinberger
Madison Bromberg
Alexis Vancil
Laura Baker